Advertiser Disclosure: FrequentFlyerBonuses.com has partnered with CardRatings for our coverage of credit card products. FrequentFlyerBonuses.com and CardRatings may receive a commission from card issuers.
Pointsyeah is the latest entrant in what is starting to become a plethora of online award search tools that have emerged over the past couple of years. At the time of posting this article the biggest difference between Pointsyeah and the others is that Pointsyeah is completely free. While many of the other search engines have free options, this latest entrant includes additional features and alerts at no charge that others tend to only include with their paid memberships.
Which programs does Pointsyeah search?
Currently Pointsyeah will search award availability with the following 17 airlines (and show flights with their respective program partners)
AeroMexico
Air Canada
Air France / KLM
Alaska Airlines
American
Avianca
Delta
Emirates
Etihad
Frontier
JetBlue
Qantas
Spirit
TAP Air Portugal Miles&Go
United MileagePlus
Virgin Atlantic
Virgin Australia
How Pointsyeah works
Pointsyeah works like every other flight search engine you may be accustomed to. Simply input your departure city, destination, dates, class of travel and number of passengers and off you go!
Once you click the search button the site goes to work – the results can take a few seconds to display as they are going out and checking all the sites. You'll see progress bar above the results to let you know how far the search has progressed and when it is complete.
Here are what the results will look like, I searched New York JFK to Los Angeles on October 3, 2023 (taxes/fees are displayed in US$):
The site defaults to show the lowest price flights but you can select other options including departure time, shortest flight or lowest taxes. You can also filter the results by program, number of stops, airlines, points range and more:
Once you do find results that work for you  click on the results box you'll be presented with an expanded results view that includes links that will take to you to airline or program to book with or to transfer your points from:
For booking direct, Pointsyeah will automatically provide the data to the airline/program booking engine so that you are presented with the award search results (no need to fill in all the info again although you will need to login to complete the actual booking)
Pointsyeah's extra features that are free!
Multiple day search
Pointsyeah has an option for user to conduct a multi day search that spans up to three days. This option is seen on other award search sites but typically only in the paid versions. To access multi dates search simply check the box above the "Yeah" search button and then select up to 3 consecutive in the calendar to search.

Points Price Alerts
Another feature that Pointsyeah provides at no cost to registered users are Points Price Alerts. Users can set up to three Points Price Alerts with unlimited continuous tracking of those alerts. Those three alerts can comprise of three separate one day searches,  one multi date award search covering three days, or a combo of one one day search and one multi date covering two days (Basically one search day = one Points Price Alert). Users will be alerted by email notification and also on their My Points Price Alerts page on the site to any changes to the alert.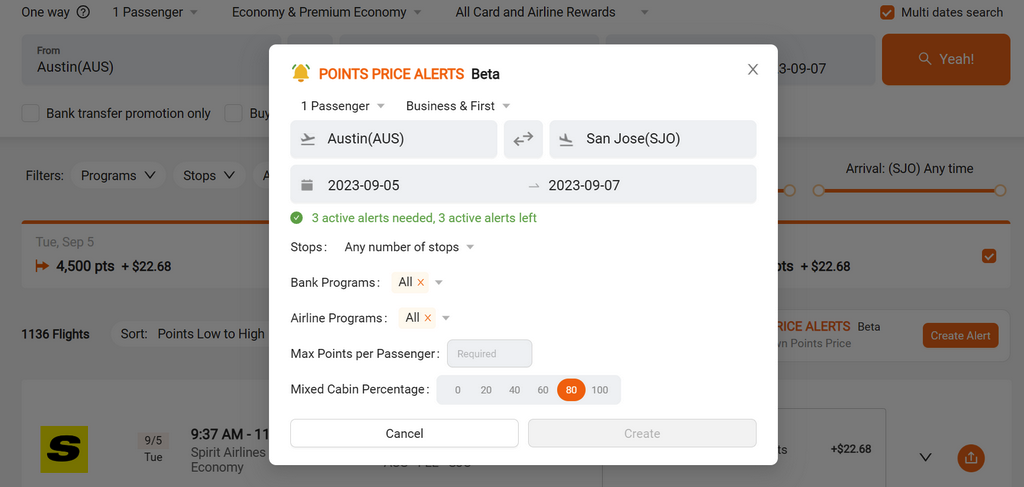 The battle for the best search engine
Pointsyeah claims to have the fastest award search engine with results displayed in as a little as 10 seconds. This is two seconds faster than Roame, who also currently claims to have the fastest award search. I'm not sure 2 seconds will be noticed by most users but whatever they all claim – the competition between all these sites benefits the customer! Thanks to all them we are seeing faster search results, additional features and additional airlines that we can search award availability with.
Wrapping it up
So what do we think of Pointsyeah? Is it a perfect award search site? No, but so far all of the award search sites and apps out there have not been – each comes with their own pros and cons. Pointsyeah definitely has the potential to save a lot of time when searching for award flights especially with the Points Price Alerts and the fact they offer it for free is great.
Ultimately I would consider it one more tool in your toolbox of apps, websites and strategies for finding award flight availability. Using Pointsyeah in combination with other techniques and sites can be a great way to find the flights that are best for you in terms of pricing, dates, routing and program(s) to utilize.
 All images and screenshots via Pointsyeah except for the American Airlines website screenshot which is via American Airlines

Please follow and like us: