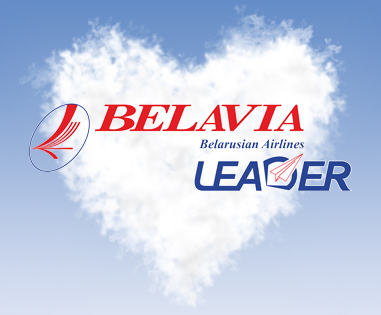 Today was a little bit better in the bonus offer department
with a few more new offers compared to last few days. The highlight today is one
that may not be of use to many of you but as all of you know I like to feature
the 'smaller guys' sometimes and really this is one of the best offers posted
today. The offer that is highlight is the latest set of flight promos from Minsk
based Belavia Leader, hopefully a few of you can make use of this one! Other offers
that may be of interest are the Triple Hawaiian Miles for Starwood stays on the
islands, another Iberia Plus Buy Avios bonus (could be targeted) and more bonuses
from my go to program for 'fill-in' bonuses, Marriott.
Belavia Leader
Double Leader Points for Belavia flights between Minsk and Ekaterinburg, Erevan, Stockholm, Helsinki, Prague (flights B2 861/B2 862 only), Hanover, Baku, Rome (C booking class only) or Kaliningrad (C booking class only). Full Details Mar 1 – 31, 13


Other Bonus Offers added today:
Cathay Pacific Asia Miles
– Double Asia Miles when paying the Best Available Rate for stays at any Shangri-La
resort for a minimum of three consecutive nights; or any Traders hotel for a minimum
of two consecutive nights worldwide. More…
Until Mar 31, 13
China Airlines Dynasty Flyer
– Earn up to Quadruple Dynasty Flyer Miles when you rent a car with Hertz
participating locations in the USA, Canada, Europe, Australia or New Zealand.
More…
Until Jun 30, 13
Hawaiian Airlines HawaiianMiles
– Triple HawaiianMiles and up to 30% off for stays at participating Starwood
Hotels in Hawaii. More… Until Dec 20,
13
Iberia Plus
– 20% Bonus Avios when you buy Avios online. More…
Until Mar 10, 13
InterContinental Hotels Group Priority Club
– Double Priority Club Points on weekend rentals of 2 or more days, or rentals
of 5 or more days, at a participating Hertz airport or off airport location in
the U.S., Puerto Rico or Canada. More…
Until Jul 31, 13
Marriott Rewards
– 3,000 Bonus Points PER NIGHT for stays at the TownePlace Suites Bethlehem
Easton. Maximum of 25,000 bonus points awarded per stay. More…
Until Mar 26, 13
– 6,000 Bonus Points PER NIGHT for stays at the Courtyard Detroit Pontiac/Bloomfield.
More… Until Mar 28, 13
– 3,000 Bonus Points when you stay two consecutive nights Sunday-Thursday at the
Charleston Marriott. More… Until Mar 27, 13
– 2,000 Bonus Points when you stay two consecutive nights Sunday-Thursday at the
Charleston Courtyard Waterfront. More… Until
Mar 27, 13
– 3,000 Bonus Points per stay including any night Sunday-Thursday at the Courtyard
Boston Logan Airport. More… Until Mar 31, 13

– 2,000 Bonus Points per stay at the Courtyard Fort Lauderdale Coral Springs.More…
Until Mar 31, 13
– 10,000 Bonus Points when you stay 4+ nights at the Renaissance St. Croix Carambola
Beach Resort & Spa.More… Until Mar 31, 13
– Double Rewards Points on weekend rentals of 2 or more days, or rentals of
5 or more days, at a participating Hertz airport or off airport location in the
U.S., Puerto Rico or Canada. More…
Until Jul 31, 13
Qantas Frequent Flyer
– 22,500 Bonus Frequent Flyer Points when you apply for the David Jones American
Express Platinum Card. Bonus awarded when you spend three times outside of David
Jones within the first month of receiving your Card. More…
Apply by Mar 31, 13 Australia Residents Only
Do you know of a bonus offer, discounted reward offer or any other promotion
that hasn't been posted to FFB? Email it to me at info@frequentflyerbonuses.com






Please follow and like us: