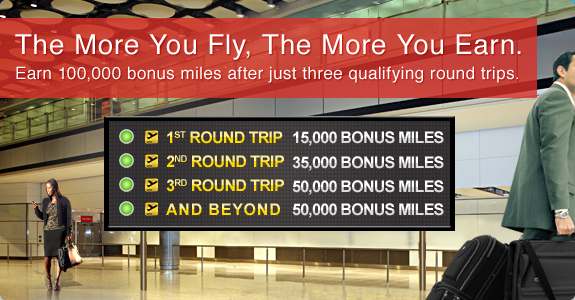 Today saw a great variety of new bonus offers posted onto FFB. The highlight
sees American Airlines awarding AAdvantage members on this side of the pond
for premium class Transatlantic travel (European members have had their own
promotion for over a month now!) with no limit on the amount of bonus miles
you can earn. Some other offers to pay attention to include a 50% bonus on buying
Club Carlson Gold Points, another A380 5th Anniversary promo from Singapore
Airlines, this time for Hong Kong residents and a Wyndham Rewards bonus specific
to Days Inn stays in the U.S.

American AAdvantage
Earn up to 100,000+ Bonus AAdvantage Miles
when you fly round trip on American, British Airways
or Iberia between the U.S. or
Canada and
Europe on
First Class, Business Class or select Economy Class fares. Earn 15,000 bonus
miles on your first round trip, 35,000 on your second and 50,000 on your third
and every subsequent round trip.
Register Online
(Registration
is required) Sep 25, 12 – Jan 31, 13
Valid for residents of the U.S. and Canada
only.


Other Bonus Offers added today:
Air Canada Aeroplan
– Double Aeroplan Miles for stays at any participating Shangri-La hotel, resort,
Traders hotel or Kerry hotel Worldwide when staying for a minimum of two consecutive
nights in a suite or Club room or Club suite. More…
Until Nov 30, 12
Air France KLM Flying Blue
– 3,000 Bonus Flying Blue Miles if you enroll in Flying Blue and fly on Air
France within 3 months of enrolment. More… Oct
1 – Dce 31, 12 Residents of India only
Best Western Rewards
– Double Rewards Points or Airline Miles for stays of 2 nights or more at
the: BEST WESTERN PREMIER Dua Sentral, Kuala Lumpur BEST WESTERN Wana Riverside
Hotel, Melaka. More… Until Dec 31, 12
Carlson Hotels Club Carlson
– 50% Bonus Gold Points when you buy Gold Points online. More…
Until Nov 10, 12
Etihad Guest
– Triple Guest Miles on all Europcar rentals Worldwide. More…
Until Oct 31, 12
Miles & More
– 1,000 Bonus Miles & More Miles for each qualifying stay at participating
Accor Hotels Worldwide. More… Until Oct
31, 12
– Earn up to 3,000 Bonus Miles & More Miles for stays at all Best Western hotels
in Germany and Luxembourg. More… Until
Nov 30, 12
– Double Miles & More Miles for stays at four Design Hotels' establishments in
Frankfurt. More… Until Nov 30, 12
– Double Miles & More Miles for stays at participating Lindner Hotels in Europe.
Valid for stays with arrivals on Friday, Saturday or Sunday.More…
Until Oct 31, 12
– 1,000 Miles & More Miles for stays at participating Steigenberger Worldwide.
More… Until Oct 31, 12
– Triple Miles & More Miles for Budget rentals in Spain, France and Italy. More…
Until Dec 31, 12
– Double Miles & More Miles for Budget rentals in Europe, Africa, the Middle East
and the USA. More… Until Dec 31, 12
– Double Miles & More Miles for fevery new purchase with Regus in Germany. More…
Until Dec 31, 12
Oman Air Sindbad
– Double Sindbad Miles when you stay at any of The Gateway Hotels & Resorts
in India. More… Until Nov 30, 12
Singapore Airlines KrisFlyer
– 3,800 Bonus KrisFlyer Miles when you fly on Singapore Airlines A380 flights
SQ861/SQ856 between Hong Kong and Singapore. More…
Oct 1 – 31, 12 Valid for residents of Hong Kong or Macau only
Wyndham Rewards
– 1,000 Bonus Wyndham Rewards Points when you book a stay at particpating
Days Inn locations in the U.S. More…
FrequentFlyerBonuses.com –
Bringing you the 'World' of Frequent Traveller Promotions

Please follow and like us: